ENGAGE:
We're a team of diverse folks passionate about addressing some of the biggest challenges facing humanity.
Invaio Sciences is a multi-platform technology company that unlocks the potential of our planet's interdependent natural systems to solve pressing agriculture, nutrition & environmental challenges.
We leverage advanced sciences to understand the physiology of insects, and the diverse systems of nature. That understanding of these inner workings gives us a unique angle at reducing the use of pesticides globally.  We leverage that knowledge to develop technology that's mindful of beneficials, bad for pests, and safer for us all.
Simply, we make discoveries by investigating nature. These results inspire solutions to pressing problems in food, its production, our health and that of the planet.
BASED IN NATURE
We are rooted in nature. Everything we enhance, create, or change we've learned from nature.
STUDENTS OF NATURE
We always stay curious because nature always has something to teach us.
FUTURE OPTIMISTS
We see infinite possibilities in nature. We're not bound by previous limitations, and thinking of the past.
UNRELENTING INNOVATORS
It's only by embracing risks that we will actually solve the world's biggest problems.
EVERYTHING IS CONNECTED
We live outside of category silos. This allows us to reveal the connections that others cannot see.
LENS BEYOND THE HORIZON
Looking at what we do today from the view of tomorrow – to understand true impacts.
OUR LINEAGE
Invaio was founded in 2018 by Flagship Pioneering.  Since the beginning we've built a diverse team with world-class capabilities and framed it around multidisciplinary sciences with systems thinking.
Our multi-platform technologies leverage breakthroughs from diverse fields including human therapeutics, agriculture, environmental science, and advanced manufacturing.  We have vast industry experience ranging from agriculture, food systems, engineering, technology, biology, and ecology.
Together, we're unbounded in our approach, and tireless in our effort to harness the possibilities nature provides to rebuild a flourishing planet where all can thrive. We continue to think long-term and strive to create teams that are greater than the sum of their individual parts.
We set to inspire new ideas, promote experimentation and support highly-motivated individuals for success in taking on some of the biggest problems facing humanity.
Robert Berendes / Ph.D.
EXECUTIVE
CHAIRMAN
Robert joined Flagship Pioneering in 2014 as an advisory partner and in 2019 became an executive partner. Robert focuses on innovations that address sustainability in the agriculture and nutrition sectors. He currently serves as the chairman of Invaio, Indigo Ag, CiBO Technologies and Inari. Robert's career has spanned leadership roles in consulting, business development, research & development, and operations. His industry experience draws from previous roles at Proctor & Gamble and Syngenta and consulting experience at McKinsey and a-connect, a global consulting firm headquartered in Switzerland that he co-owns.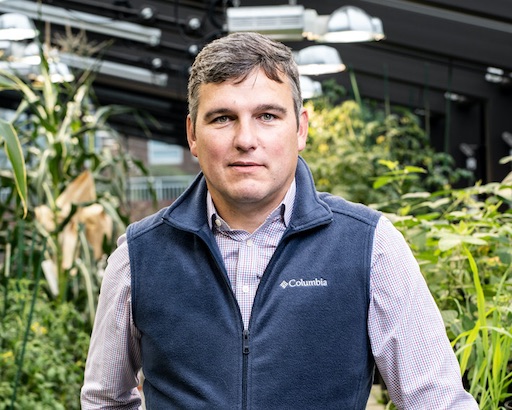 Ignacio Martinez /
FOUNDING
PRESIDENT & CEO
Ignacio joined Flagship Pioneering in early 2013 to lead the sustainability activities of the firm. In addition to being CEO & President of Invaio Sciences, Ignacio is co-founder and founding CEO of CiBO Technologies, Inari Agriculture, Senda Biosciences, and founding director at Indigo Agriculture. Prior to joining Flagship, Ignacio was a founding member and managing director of Syngenta Ventures. During his tenure at Syngenta, Ignacio was directly involved in corporate strategy and led multiple venture capital investments in agribusiness, biotechnology, and sustainability companies in Europe, North America, and Latin America.
Gerardo Ramos / Ph.D.
CHIEF
SCIENCE OFFICER
Gerardo joined Flagship Pioneering in 2018 after a long career in the life science industries in various senior R&D roles with Ciba Geigy, Novartis and Syngenta. During the last 10 years he served as the global Head of Crop Protection R&D at Syngenta where he was instrumental in building an unrivaled crop protection chemistry pipeline, a state-of-the-art R&D infrastructure and a world class team.  Gerardo is the author of more than 70 scientific papers and patents. In 2017, he received the Agrow's Lifetime Achievement Award and was appointed to the Board of the Foundation of the Swiss Chemical Society. Gerardo joined Invaio in 2019 as CSO.
Laura Westby /
HEAD OF LEGAL & IP,
& HUMAN RESOURCES
Laura Westby joined Invaio Sciences as SVP – Legal & IP/ Contracts in June of 2019, and has assumed responsibility as Head of Human Resources.  Prior to joining Invaio, Laura was General Counsel for two tech start-ups: Momenta Partners AG and Close Cross Ltd.  But her true passion is agriculture, having spent 15 years at Syngenta in various roles in the US and Switzerland, culminating in the global position of Associate General Counsel – Crop Protection.  Laura holds a BA in Classics, Psychology and Political Science from Gustavus Adolphus College, and a Juris Doctorate from Mitchell-Hamline School of Law, St. Paul, Minnesota.
Aaron Niederhelman /
HEAD OF MARKETING
BRAND & COMMUNICATIONS
Prior to joining Invaio in November 2019, Niederhelman spent the past decade as an entrepreneur coaxing values through supply chains. Aaron co-founded OneHealthAg to modernize meat supply by harmonizing the interests of producers using elevated standards with brands managing reputational risk tied to sourcing claims. In 2015, an Eisenhower Fellowship program offered insight into supply chains, resource management and water utilization strategies from across Europe and the Middle East.  Prior, Niederhelman was Managing Director & co-founder of the EAF Agrarian Fund – a private equity investment promoting economic growth from well sourced food with regional provenance.
Sara Salvador / Ph.D.
HEAD OF RESEARCH &
DEVELOPMENT FUNCTIONS
Sara joined Invaio in July of 2018.  In her role, she works with an exceptional team of scientists to deliver enabling capabilities to advance Invaio's pipeline of product solutions and platform technologies.  Prior to joining Invaio, Sara spent 15 years at Monsanto in the biotechnology organization building teams and capabilities in high throughput protein engineering, DNA vector design and gene expression discovery and optimization.  Sara holds a PhD in Analytical Chemistry from the University of California, Riverside and is an inventor on 15 issued patents.  She is passionate about working with great people to make a difference in the sustainability and resilience of our planet.
Tom Malvar / Ph.D.
HEAD OF 
DEVELOPMENT
Tom Malvar, Ph.D. has over 25 years of experience developing new biotechnology tools for agriculture that increase farm productivity. His expertise includes the discovery and development of innovative products that allow crops to cope with biotic and abiotic stress. Prior to joining Invaio, Tom served in a number of roles at Monsanto Company including leading the company's strategy for developing next generation insect control traits and as Director of the Enabling Technology Program where he led a diverse scientific team supporting Monsanto's biotech product portfolio. Tom is an inventor on over 55 issued patents and holds a Ph.D. in Genetics from the University of New Hampshire.
Yajie Niu / Ph.D.
HEAD OF
RESEARCH
Yajie is a senior associate at Flagship Pioneering, working as part of a team of entrepreneurial scientists focusing on next generation technologies for sustainability. She has been part of Invaio R&D team since June 2019. At Invaio, Yajie is involved in building biological delivery team to develop the proprietary technologies to address main challenges in agriculture and sustainability.  Before joining Invaio, she worked at Inari Agriculture, another Flagship company. At Inari, Yajie was one of founding members and developed proprietary CRISPR tools for gene modulation. She supported technology intellectual property development and is an inventor on 12 patent applications.
Virginia Ursin / Ph.D.
HEAD OF 
ALLIANCES
Virginia (Ginni) Ursin joined Invaio as Head of External Alliances where she brings her commitment to develop partnerships to accelerate the pace of innovation in agricultural sustainability. Ginni brings over 25 years of experience in the life sciences. Before joining  Invaio, Ginni held a similar role at Indigo Ag, and prior to that, held a number of roles at Monsanto which included leading research programs focused on agricultural sustainability. Ginni holds a PhD in Genetics from the University of California, Davis. She is passionate about agriculture and the real prospects for creating a sustainable global food supply, and is an avid gardener.
Apostolos Klontzaris /
HEAD OF
BUSINESS DEVELOPMENT 
In September 2019 Apostolos joined Invaio as head of strategy and business development. Prior, Apostolos spent 20 years with Bayer CropScience AG and Syngenta AG, where he established a strong record in global business development and mergers & acquisitions. Apostolos was also responsible for the management of funds and investments in certain LP portfolio companies through an external venture capital. During his last position as a CEO for Bayer CropScience Greece & Cyprus, he demonstrated exceptional operational and leadership acumen. Apostolos holds a B.Sc. in Agricultural & Biological Sciences, a M.Sc. in Pest Management and an MBA from the University of Newcastle upon Tyne, U.K.
Dimitri Verweire / Ph.D.
COMMERCIAL LEAD
EUROPE
Dimitri joined Invaio in February 2020 as head of new business models. He has more than 10 years of experience in strategy, business development and start-ups in Agriculture and Animal and Human Food value chains. He held corporate strategy and hands-on business development roles at Syngenta. Dimitri has gained significant experience in working at the intersection of innovation, business development and marketing in the agricultural and food industry including digital precision farming, crop protection strategy, go-to-market with new business models integrating the full value chain. He holds a PhD in Plant Biotechnology.
Maier Avendano / Ph.D.
HEAD OF
ADAS
PLATFORM
Maier is an entrepreneurial scientist with multidisciplinary expertise across different scientific areas, intellectual property, and business strategy. At Invaio, Maier focuses on creating and developing the core platform technologies, keeping an innovation organizational environment, and promoting open innovation that encourages an agile work environment. In 2015, Maier co-founded Sciences Clubs Colombia, a nonprofit educational program whose aim is to make a social transformation based in science & technology. He is the author of several patents & peer review publications. Maier has a Ph.D. from Harvard University, and completed a M.Sc. degree in biological sciences; B.Sc in Microbiology at the Universidad de Los Andes in Colombia.
Avram Slovic / Ph.D.
COMMERCIAL LEAD
LATAM
Avram has worked for 13 years in agribusiness and industrial biotechnology across Brazil, Europe, and the United States.  With a background in Biophysics and Synthetic Biology, he led R&D and Commercial teams in global companies including Amyris, Braskem and Indigo Agriculture.  An entrepreneur, Avram co-founded InstaAgro.com in 2015, leader in online sales of Agricultural inputs in Brazil, and Harvest Consulting, helping companies enter the Brazilian agriculture market.  He is the author of 5 articles and 11 patents.  In his spare time, he enjoys spending time with family, hiking, biking, and cooking.
Umberto Torresan /
COMMERCIAL LEAD
UNITED STATES
Umberto has worked in strategic marketing, business development and corporate development for various corporations such as Corteva, DuPont de Nemours, Honeywell International, Dow Chemical and AT&T (then SBC). He has also prior entrepreneurial experience having co-founded a financial advisory firm in New York in the early 2000s. Umberto holds a MBA from the University of Texas at Austin, a MA in Journalism and Public Affairs from the American University in Washington, DC and a BA in Linguistics from the Universita' Cattolica of Milan, Italy.
David Kolesky / Ph.D.
HEAD OF
INVAIO LABS
David is a member of Invaio Labs and an associate at Flagship Pioneering, where he works to create first-in-category companies across sustainability and human health. At Invaio, David focuses on the discovery, design, and delivery of novel molecular solutions for agricultural applications. At Flagship, he was also part of the founding team of Senda Biosciences. Prior to Flagship, David invented 3D bioprinting methods for building human tissues for drug screening and organ replacement. He was recognized for this work as the winner of 2016 National Collegiate Inventor Competition.  David holds a Ph.D. from Harvard University in Engineering Sciences and a B.S. in Materials Science and Engineering from the University of Florida.
Hok Hei Tam / Ph.D.
HEAD OF
DIGITAL
Hok Hei is a member of Invaio Labs and a senior associate at Flagship Pioneering where he has been part of a team of entrepreneurial scientists focusing on next generation technologies for sustainability and human health since 2017. At Invaio, Hok Hei is focused on using machine learning and other digital technologies to discover innovative nature-based products. He was also part of the founding teams of Senda Biosciences and Inari Agriculture. Hok Hei holds a PhD in Chemical Engineering from MIT and is an inventor on 11 patent applications.
At Invaio, we believe in order to change the world for the better we must invest in top talent.  As you'll see to the right – we've focused on building out a top-notch development team set on evolving status quo.  We continue to think long-term and strive to create teams that are greater than the sum of their parts. We set to inspire new ideas, promote experimentation and support highly-motivated individuals for success in taking on some of  the biggest problems facing humanity.
Careers Page
RESEARCH & DEVELOPMENT
68

%
BUSINESS & DEVELOPMENT TEAM
12

%
SCIENTISTS ON
INVAIO STAFF
KEY STRATEGIC
RELATIONSHIPS
A PIONEERING SPIRIT
It's the discoveries about our relationships with systems that surround us that will amaze us in the future. Seemingly, it's our practices in coexisting in those worlds and managing relationships with different elements of nature which will stabilize food systems and address the climate crisis.
Ultimately, we can fix this.  We can stabilize the planet by focusing first on these different natural elements and harmonizing with biological systems. By working on these relationships that impact us the most, as with insects, aspects like how we feed ourselves and how we deal with our waste stream will lead to broader discoveries where nature will teach us the way to greater and prosperous practices of refinement.
Invaio Sciences has spawned out of the Flagship Pioneering business ecosystem. Flagship Pioneering conceives, creates, resources, and develops first-in-category life sciences companies to transform human health and sustainability. Steeped in world class scientists and professionals, Flagship Pioneering seeks to improve the human condition.
Since its launch in 2000, the firm has applied a unique, hypothesis-driven innovation process to originate and foster more than 100 scientific ventures, resulting in over $30 billion in aggregate value. To date, Flagship is backed by >$3 billion of aggregate capital commitments, of which over $1.5 billion has been deployed toward the founding and growth of its pioneering companies alongside >$10 billion of follow-on investments from other institutions.
"A nation that destroys its soils destroys itself. Forests are the lungs of our land, purifying the air and giving fresh strength to our people."
- FRANKLIN D. ROOSEVELT
"Deforestation is changing our climate, harming people and the natural world. We must, and can, reverse this trend."
- JANE GOODALL
"The environment is where we all meet; where we all have a mutual interest; it is the one thing all of us share."
- LADY BIRD JOHNSON
Nature is misunderstood. Dismissed as limited when in fact it is infinite. Today, through modern technology we're more empowered than ever to understand the true power of nature.  At Invaio, we believe we can progress humanity through a deeper understanding of nature.  We believe the solutions are based within nature; cloaked in the systems that surround us. 
Today we have the tools at our disposal to understand it, and unlock it – allowing us to return to a more balanced relationship.
The Planet isn't dying; she is full of life. Only by seeing ourselves as part of nature and connecting with those relationships that sustain us – can we preserve what is truly under threat – our Humanity.