Targeted Delivery Systems
We've introduced precision delivery of diverse actives through both Physical and Biological means.
Our renowned scientific team is focused on precision delivery of both physical application & biological know-how to positively impact the food system, our health and the stability of natural systems.
Through both mechanisms of delivery we're building-out a technology suite for scientific advancement to address acute problems in Agriculture, Health & Nutrition, and our Environment.
BIOLOGICAL DELIVERY
a revolutionary suite focused on amplification and encapsulation
PHYSICAL DELIVERY
tools that push the envelope towards refinement in pest management practice
With our biological delivery mechanisms we turn to naturally derived systems that can be used to produce, protect and deliver a variety of active molecules. It's built upon broadly programmable, non-replicating systems that maintain important functional properties which are all biodegradable.
We've developed the ability to actively amplify molecular production in a predictable and precise manner using naturally derived systems.
We've tapped into naturally formed, plant-based encapsulation materials formed from plant cells used for essential plant communication functions.
BIO-ACTIVE AMPLIFICATION – A naturally derived system that can be used to produce and deliver a variety of active molecules. With this we have the ability to amplify biomolecules – thus extending in-field viability and efficacy of biological active principles.  These are broadly programmable, non-replicating systems that maintains important functional properties.  And, they're all completely biodegradable.
BIO-ACTIVE PACKAGING – Naturally occurring materials formed from plant cells that are used for essential plant cellular communication functions.  With this we're able to encapsulate molecules and travel them within the plant. This improves delivery to plant tissues in leaves and seeds.
We've learned to think outside of the box and seek solutions in the formulations, encapsulations and systems integration at play.
Our physical delivery system is built upon proprietary 3D printed injection tips which deliver biological active molecules into a crop vascular system where they rapidly move throughout the plant for maximum protection.
PHYSICAL DELIVERY

ON PERENNIALS
We've created proprietary precision injection hardware to deliver actives into a crop vascular system to rapidly move throughout the plant delivering maximum protection.
Our precision delivery system (patent pending) gets the active where it's needed, when it's needed.  Early data suggests significant reduction in residue with  minimal tree damage and a lower dose.
Traditional Industry Approach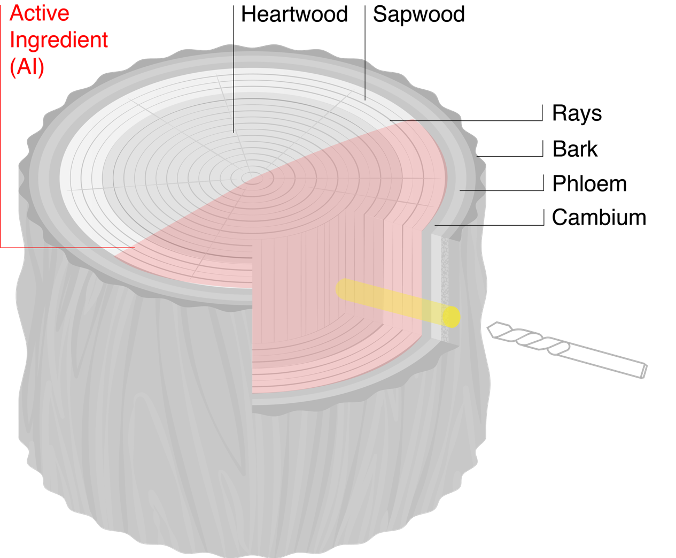 Traditional injection leaves fruit residues above limits while also damaging trees.  Destructive drilling creates infection points in crop, and active ingredient reservoirs pool in "dead" tissue,
PRECISE PHYSICAL DELIVERY:
REDUCED PESTICIDE USE & EXPOSURE – Our physical delivery system uses precision injection hardware to help reduce pesticide waste and eliminate 90-95% of foliar spray that never reaches the target.
EFFICIENCY & EFFICACY  – We can maximize efficacy while minimizing crop residue through our patented applicator designs which allow for targeted injection without weakening trees and leaving them susceptible to pests & diseases.
NEW MODEL FOR TARGETED PERENNIAL CROP MANAGEMENT – Reduce yield loss from diseases not effectively addressed via sprays (e.g., citrus greening, Xylella in various crops, Panama disease in bananas)
THROUGH A FOCUS ON PRECISION DELIVERY,

WE TAKE A MORE MINDFUL APPROACH TO INSECT MANAGEMENT.
You can't connect the dots looking forward; you can only connect them looking backwards. So you have to trust that the dots will somehow connect in your future.
– STEVE JOBS
WE'RE WORKING WITH MANY AFFILIATES, PARTNERS, FRIENDS & STAKEHOLDERS IN OUR EFFORTS TO STABILIZE THE PLANET THROUGH EVOLVING HUMAN'S RELATIONSHIP WITH INSECTS
Sorry, no posts matched your criteria.